Your 4-star family campsite features a magnificent water play park for young and old alike. An excellent place to enjoy your dream holiday with family or friends.
The Aquatic Park Pool Complex
POOL OPENING PERIOD
The heated indoor swimming pool is accessible throughout the campsite's opening period, from April to September. When spring comes, the retractable dome opens to let fresh air and sunshine in. An indoor paddling pool equipped with an adapted slide is perfect for young children.
The outdoor complex opens from mid-May to mid-September. The water park houses several heated swimming pools accessible during the opening periods.
THE HAMMAM: ORIENTAL STYLE RELAXATION
Indulge in a soothing and relaxing moment in the hammam housed in the indoor swimming pool. It is accessible all season long, free of charge.
Outdoor pools
The outdoor section is the most incredible part of the water park. Enjoy everything from swimming, fast-current or slow-river bathing, water games, slides, and a wave pool... A unique experience to share with the whole family. For enhanced pleasure, anatomical and hydro-massage benches are accessible to all. Just let yourself be rocked to the rhythm of the water jets. A multi-lane water slide offers a thrilling sliding experience, and there are sensational water slides for the brave. Enjoy a wide array of freely accessible water games such as geysers, slow river or whirlpool baths. We also offer a fun paddling pool adapted to young children, where the little ones can have fun in the water, under their parents' watchful eye.
"I have never liked a campsite so much. Great water space"
Mpkfa - 4 septembre 2016 - Trip Advisor
"A beautiful water area with an ideal water temperature and beautiful slides for all tastes"
Didier C - 1er mai 2017 - Trip Advisor
« The pool complex is exceptional! At the same time immense and very calm besides being pretty and functional »
MJulien91 - 21 mai 2018 - Trip Advisor
«A beautiful water park and real water slides »
Michelscribe41 – 28 juillet 2018 - Trip Advisor
The aquatic playground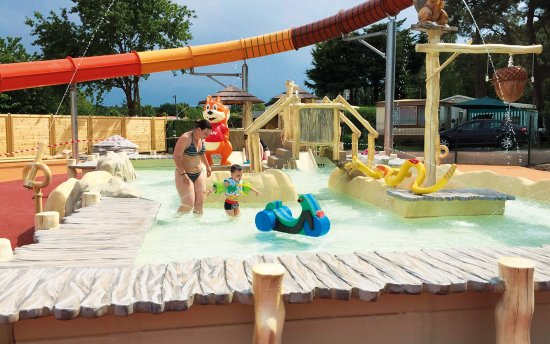 Discover our playful aquatic playground dedicated to the youngest. Kids will love the fun water jets, tipping buckets, and water slides. Let your little adventure-seekers experience this aquatic safari, overlooked by our mascot: Capi!
The wave pool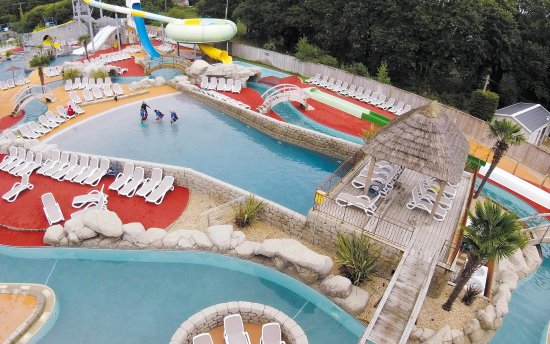 Are you reluctant to dip into the cold waters of the Atlantic Ocean ? Don't worry, we've got you covered: come and discover the wave pool ! Dive into this playful heated pool prized by holidaymakers.
RESPONSIBLE BATHING FOR A SUCCESSFUL HOLIDAY
The Léveno Estate swimming pool complex strives to fulfil all your desires. However, it is imperative to remain careful on the pools and to respect all safety instructions dutifully. It is up to you to supervise your family and to respect the applicable rules.
For hygienic reasons and as per the regional health agency's recommendations, bathing shorts are not accepted inside the pools, and shoes are forbidden inside the aquatic area.
Our promise: Qualified companions at your service
During the summer holidays, a team of pool wardens is there to enhance safety and prevent distractions. All the members of this one are graduates of the National Patent of Safety and Rescue Aquatic. A state-certified lifeguard occupies the position of basin manager during the July-August period. He graduated with a Professional Certificate of Youth, Popular Education and Sport, specializing in Aquatic and Nautical Activity. This diploma gives the qualifications required to offer swimming lessons to anyone wishing to learn how to move in the water. A certificate of aquatic comfort is issued at the end of the necessary sessions. All information is available from your reception service.
Important note
The indoor swimming pool is available from April to September . On the other hand, the water park with its paddling pool and its slides, its multitrack slides, its anatomical benches and its deckchairs are devolved to you from mid-May only. Sometimes these infrastructures are made available earlier in the season. To be informed, contact Cyprien reception service at 0033(2) 40 24 79 30, or by message directly by clicking on the drop-down tab located on the right of your screen.